Sidewalk Repair and Violation Removal Services
Your One-Stop Solution for Sidewalk Repair and Violation Removal Services in NYC
Your Experienced Sidewalk Repair & Violation Removal Contractor in NYC
Welcome to Hi Tech Contracting & Restoration Corp—New York City's premier destination for professional sidewalk repair and violation removal services. Committed to the safety and well-being of our city, we provide prompt, top-quality solutions to ensure your sidewalks adhere to local regulations and are in optimal condition.
Our services extend to numerous neighborhoods and nearby areas, such as Brooklyn, Queens, Far Rockaway, Staten Island, Manhattan, Jackson Heights, Astoria, East New York, and beyond.
Safe and Well-Maintained Sidewalks
Sidewalks are essential to the safety and accessibility of our communities. Therefore, it's important to quickly address any issues such as cracks, potholes, or uplifted panels to prevent potential violations and hazards. Our experienced team specializes in repairing a multitude of sidewalk problems—from cracks and potholes to uplifted panels—and is well-versed in navigating the unique challenges of NYC's bustling environment. We deliver durable solutions that stand the test of time, ensuring your sidewalks are both safe and functional.
Why Choose Us for Sidewalk Repair and Violation Removal?
Understanding NYC Sidewalk Regulations​
Navigating the complexities of NYC sidewalk regulations can be overwhelming. Our team is well-versed in local regulations, ensuring your property complies. Avoid costly penalties and fines with our expert assistance.
Sidewalk Repair Services: Restoring the Foundations of Safe Walkways
Our team at Hi Tech Contracting & Restoration Corp offers a comprehensive range of sidewalk repair services. We combine our skilled technicians' expertise with advanced equipment to promptly and efficiently resolve any sidewalk issues, ensuring all pedestrians have safe, smooth walkways.
Understanding NYC Sidewalk Regulations
Comprehensive Sidewalk Repair Solutions
Concrete Leveling and Lifting: Uneven and sunken sidewalks can create trip hazards and hinder accessibility. Our concrete leveling and lifting services utilize advanced techniques like polyurethane foam injection to raise and level sunken concrete slabs, restoring the sidewalk's evenness.

Sidewalk Crack Repair: Cracks in sidewalks are unsightly and can lead to more extensive damage if left unattended. Our experts employ high-quality materials and sealants to effectively repair cracks, preventing further deterioration and potential hazards.

Pothole Restoration: Potholes in sidewalks can cause accidents and inconvenience to pedestrians. We specialize in efficiently filling and restoring potholes, providing durable solutions to withstand NYC's challenging weather conditions.

Uplifted Panel Repair: Tree roots and soil expansion can cause sections of sidewalks to uplift, creating uneven surfaces. Our team has the expertise to address uplifted panels, ensuring safe and seamless sidewalks.

Full Sidewalk Replacement: In cases of extensive damage or irreparable sidewalks, we offer full sidewalk replacement services. Our team carefully removes the existing concrete and installs new, compliant sidewalks that meet all NYC regulations.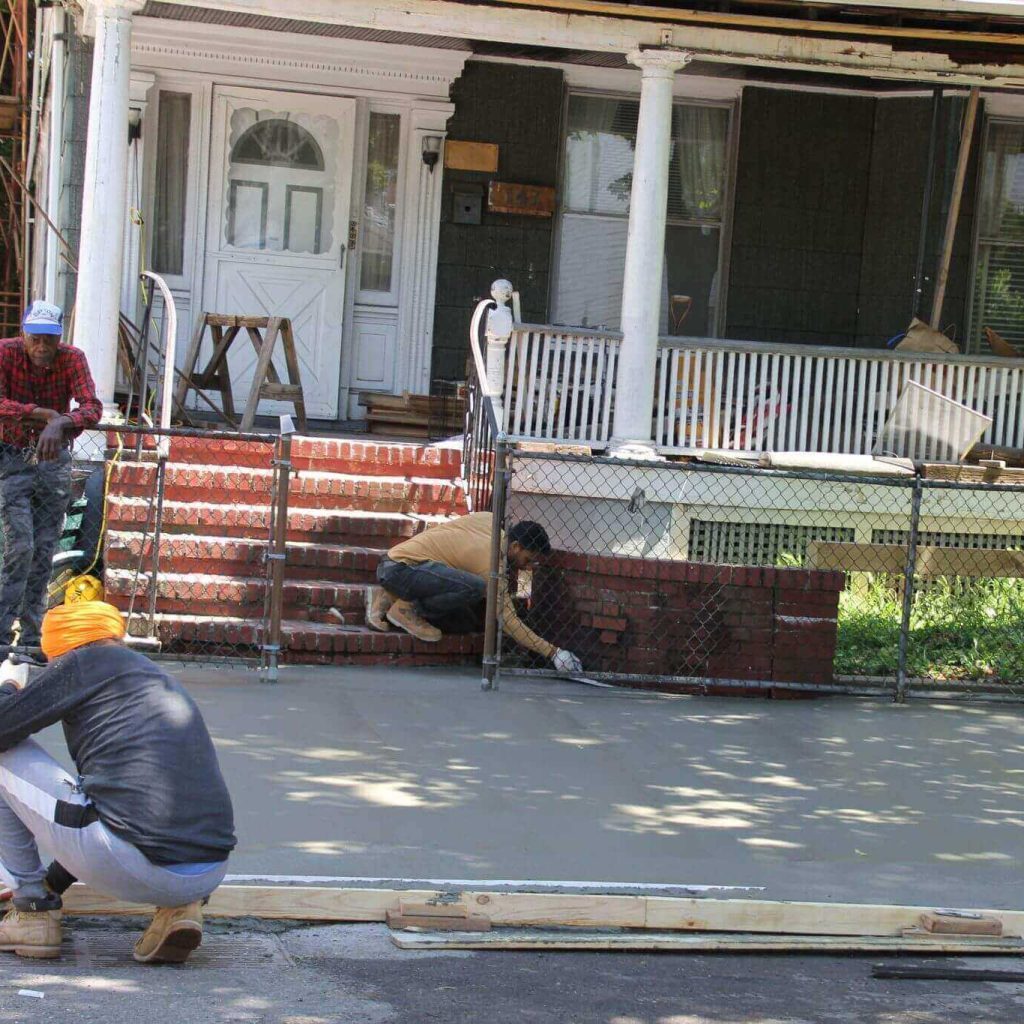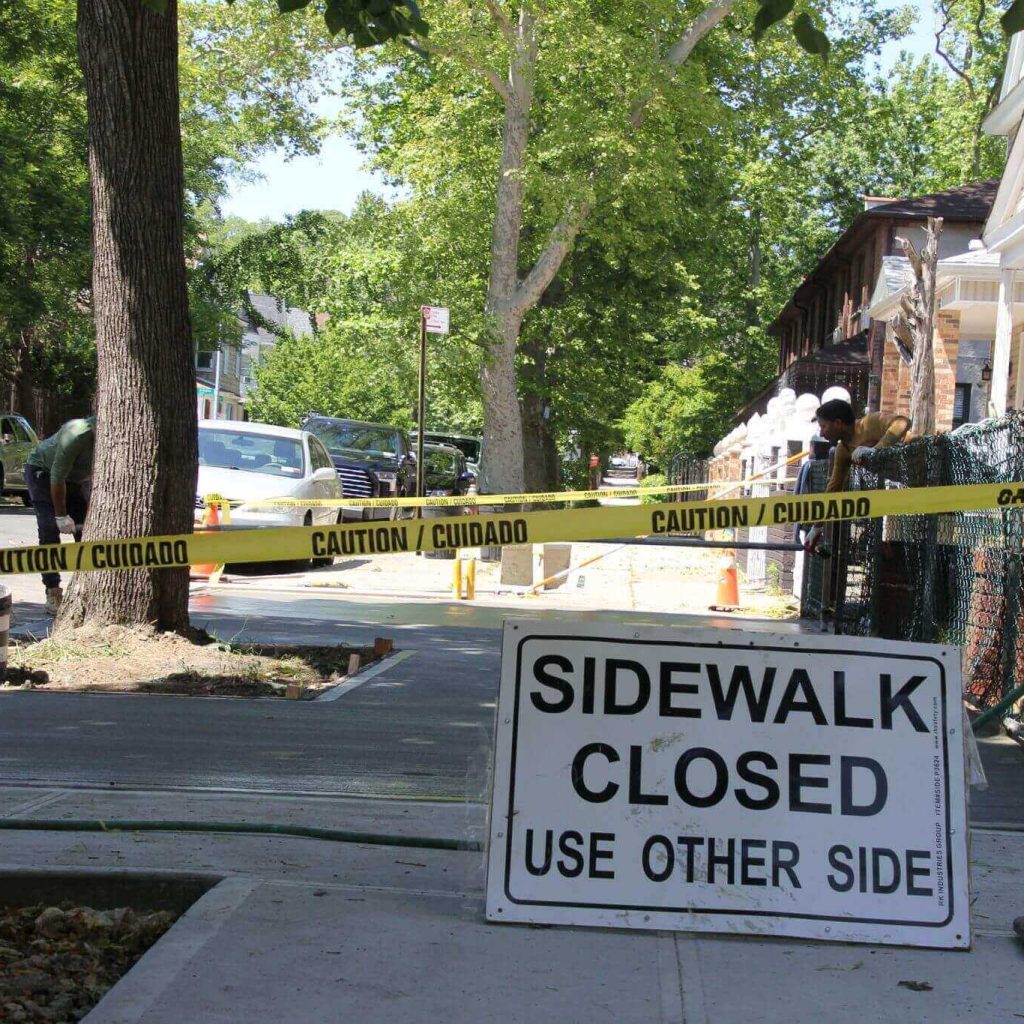 With years of experience in the industry, we have refined our skills in various sidewalk repair techniques. Our team stays in tune with the latest materials and equipment advancements to provide exceptional results. When you choose us, you can be confident that:
Quality Materials: We use top-grade materials that meet NYC's standards for sidewalk repair, ensuring longevity and durability.

Expert Technicians: Our skilled technicians are trained to handle complex repair scenarios with precision and attention to detail.

Efficient Solutions: We prioritize prompt service without compromising on the quality of our work. Our goal is to restore your sidewalks efficiently to minimize disruption.
5 Star Rated Sidewalk Company
Don't just take our word for it – see for yourself why we are a 5-star-rated sidewalk company in Brooklyn, New York area. Check out our reviews on top platforms like Google, Yelp, and Home Advisor, and see what our satisfied clients have to say about our work.
Most frequent questions and answers